Our Instant Privacy Hedge Growing System


Your customers want it. We are growing it for you.
Filling the Need for Privacy Screening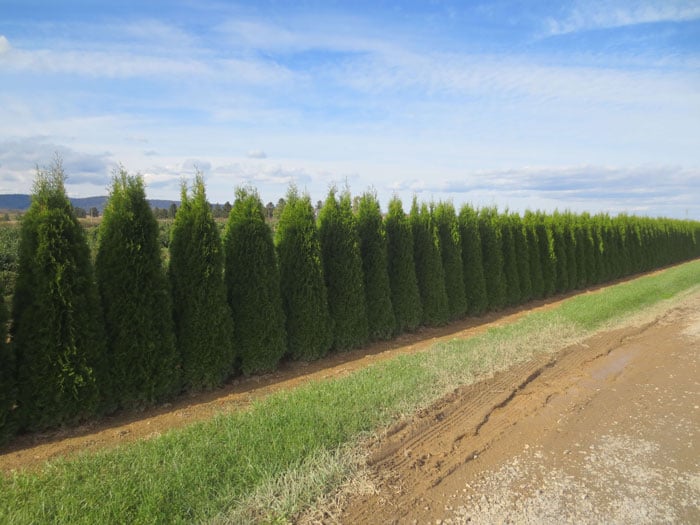 Is there a better way?
Yes. Our way. The better way to privacy screening is to install a finished hedge rather than wait years for smaller plants to fill in.
In 2012, while visiting nurseries in Europe I came across QuickHedge in the Netherlands. They invented a system of growing finished hedges using one of a kind equipment. Although finished hedges are available in many European countries as well as New Zealand, QuickHedge developed a singular system for in-ground production. Their success is, in part, due to their light organic soil that permits them to harvest one meter sections of hedge into a cardboard box. The same system has been duplicated by some growers in the United States, but heavy soil makes those one meter sections difficult to manage on the installation side. That's why we've come up with a modified approach.
In our system, we grow a variety of hedging plants in sets of three that are carefully pruned to grow together. At harvest, we separate individual plants for shipping. One face of each plant will be numbered for easy installation in the order they were grown. Instant hedge!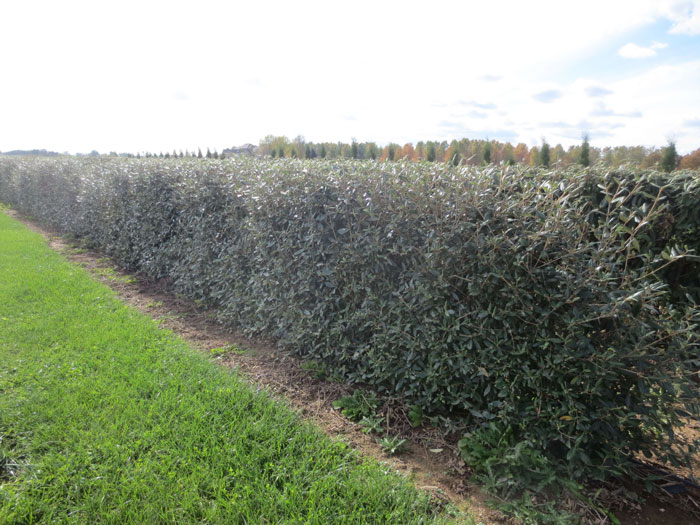 Instant Hedging for Privacy
At the end of the 2021 planting season, we will have 4 miles of hedge in production. Plants included in the program include:
Fagus sylvatica, Fagus sylvatica var. purpurea
Parrotia persica, Parrotia 'Persian Spire'
Prunus laurocerasus (West Coast Clone)
Buxus sempervirens 'Green Mountain', Buxus microphylla 'John Baldwin'
Ilex meserveae 'Blue Maid', Ilex aquipernyi 'Dragon Lady'
Ligustrum ovalfolium, Ligustrum vulgare 'Cheyenne'
Rhamnus frangula 'Fine Line'
Viburnum rhytidophyllum, Viburnum rhytidophyllum 'Cree', Viburnum x pragense,
Carpinus betulus
Chamaecyparis lawsoniana 'Pinpoint'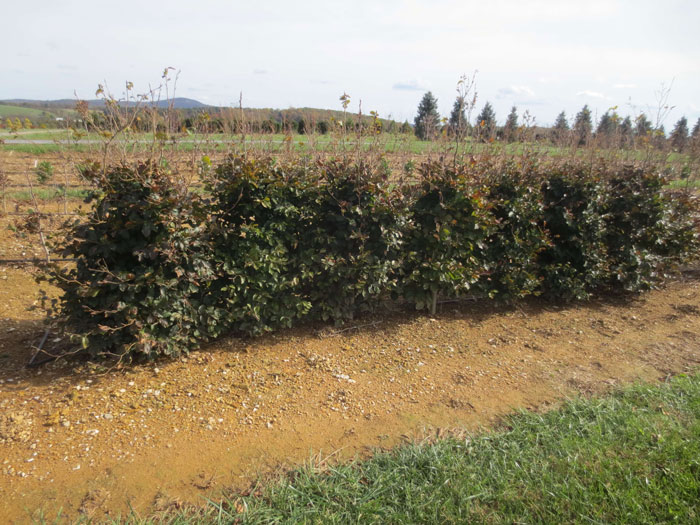 Instant Hedging for Borders
Plants included in the program garden borders include: Buxus sempervirens 'Green Mountain', Ilex meserveae 'Blue Maid', Rhamnus frangula 'Fine Line', and Buxus microphylla 'John Baldwin'.
We can also grow some of the 'hedging for privacy' plants on contract at smaller sizes. Further, if there is a particular plant you would like us to include in the hedging program, give us a call.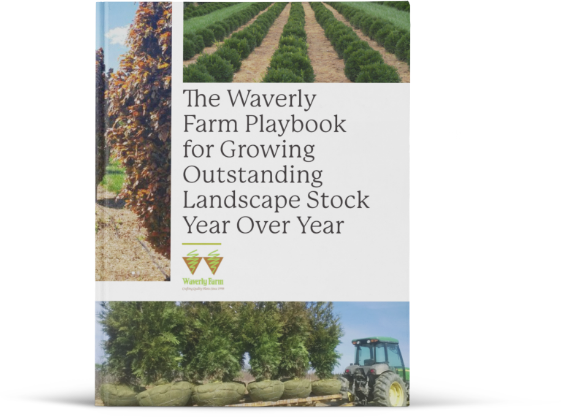 The Waverly Farm Playbook for Growing Outstanding Landscape Stock Year Over Year
Your success as a landscape professional depends on developing long-term partnerships with the most reliable growers as trusted sources for high quality plant stock.
This eBook will help you in your search by identifying key characteristics to look for in a grower capable of producing plants that have year over year consistency in health, size, and fullness