The plants you use the most are getting harder to find each year, right? Those "go-to" cultivars always seem to be sold out before you can get them.
In part one of Under-utilized Plants we explored overlooked and under-utilized cultivars like Seven Son Flower and Hibiscus syriacus among others. But there are two other specific categories worth your attention: dwarf plants and slow growers.
If you frequently work with clients who are located in urban neighborhoods, you know that there is a strong demand for compact, dwarf and slow-growing plants to landscape small urban environments--including rooftop gardens. There are hundreds of cultivars that fit in this category and a number of them offer terrific bite-sized options. They just don't have a marketing machine behind them, so they lack name-recognition.
Let's change that. Here are a few of those lesser-known cultivars worth considering.
Pinus parviflora - Japanese white pine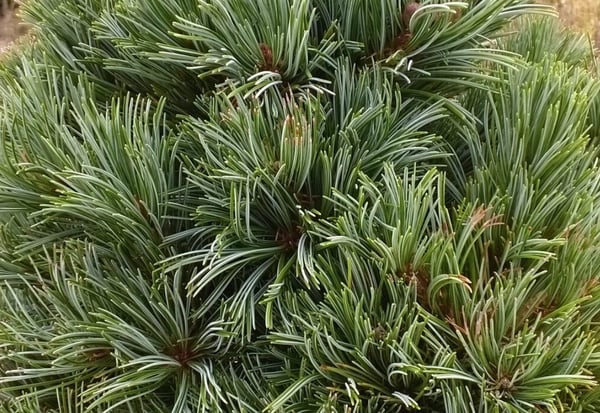 First up is the 'Gimborn's Ideal,' a compact pine with silvery-blue & light green needles. This cultivar has what I'd call an upright habit in youth - growing straight up, and then broadening with age and is slow growing.
We have a row here on the farm that has grown 7ft in 11 years--which is slow for a pine. Slow growth means lower maintenance requirements. It also makes it a good choice for a smaller landscape. Annual growth rate is 6-8".
This cultivar originated as a unique specimen selected in the 1950s at the van Gimborn Estate, Doorn, The Netherlands. The American Conifer Society notes that "Gimborn's Ideal' is easy to keep at a manageable size by way of candling and aesthetic pruning. So pinch those shoots and get out the pruning shears and you will have an excellent product for your next small-space job - a truly ideal white pine.
Chamaecyparis obtusa 'Tempelhof ' - To see it is to desire it
The lesser known Hinoki cypress, Chamaecyparis obtusa 'Tempelhof', is practically the same as 'Compacta' and displays many of the characteristics that make 'Compacta' popular. The main difference may be that 'Tempelhof' has a lighter, olive-green foliage.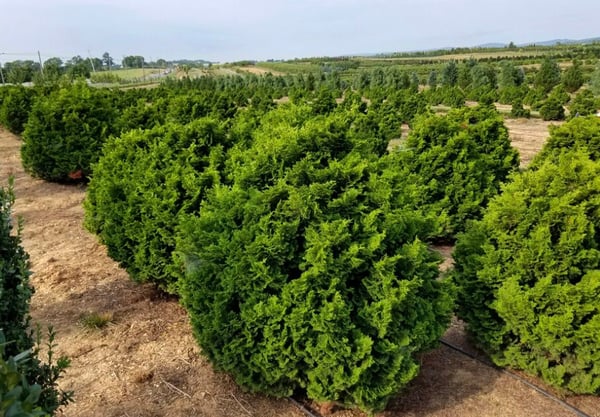 Chamaecyparis obtusa 'Tempelhof' is a dwarf, oval-shaped, selection of Hinoki cypress with rich, yellow-tinted, green cupped foliage that assumes a bronze cast in winter. Overall, it is similar to C. obtusa 'Nana Gracilis,' except for the distinctive foliage. While slow growing, it is actually faster than other Hinoki. After 10 years of growth, a mature specimen will measure 2 feet (60 cm) tall and wide, an annual growth rate of 2 to 3 inches (5 - 7.5 cm). This cultivar originated in 1964 and was named for L. Konijn & Company's Tempelhof Nursery, Boskoop, The Netherlands.
There is such a wide, wide variety of these interesting plants. You'll notice the crisp, clean, green foliage. Different varieties have different foliar habits. Some twist a bit, some are palm-shaped; it's one of those plants that you just like when you see it. About three years ago we started growing a wide selection that will become available in about five years. I, for one, am looking forward to it. Consider a plan to stock this unique Hinoki.
Pinus strobus 'Horsford' - Ah, sweet constancy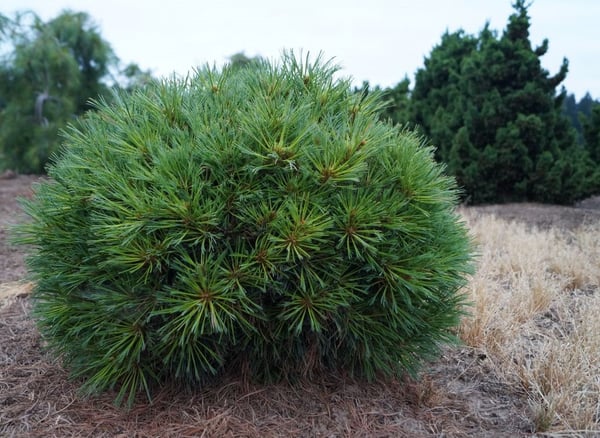 The 'Horsford Dwarf' is probably the smallest plant we grow. It has blue-green needles, very dense, globose. It is probably our favorite for consistency of habit and tight appearance. We sell them when they reach 24" in diameter.
Pinus strobus 'Horsford' is considered one of the "classic" dwarf white pines, especially in the U.S. nursery trade. After 10 years of growth, a mature specimen will measure 28 inches (70 cm) tall and 40 inches (100 cm) wide, an annual growth rate of 2 to 3 inches (5 - 7.5 cm). It is an excellent choice when you are looking for a white pine for smaller spaces.I love a good origin story. This cultivar started as a natural dwarf found in the 1950s by Bill Horsford near Charlotte, Vermont. According to the legend, Bill dug and sent the entire mother plant to Greg Williams of Kate Brook Nursery, Wolcott, Vermont, for propagation and introduction to the trade sending it via U.S. postal service in just a tagged bushel basket. It made it to Kate Brook, and now you know why Horsford, Williams, and us here at Waverly are such fans.
You've got choices
Sometimes it may feel like we have a tyranny of choices. But when your "go-to" cultivars are not in stock, that feeling goes away pretty quickly. There are plenty of under-utilized cultivars to consider that can round out your stock. Take a look at part one of this article for great non-dwarf alternatives. But for client work that requires work in tight spaces, the dwarf and slow-growing options I've detailed above are a good start. The more you know beyond the well-marketed "A-list" plants the better prepared you are to meet customer demand when the "A-listers" are not available. And you may even start to broaden your definition of "A-list."
Reserving the plants you need for when you need them can be a real challenge. Download our ebook Solving Plant Shortages in a High Demand Landscaping Market to learn about practical solutions to common plant sourcing problems.