Wholesale Nursery in Indiana
Are you looking for a Indiana wholesale nursery that produces field-grown, fully finished trees and shrubs?
We have been serving wholesale customers in the professional landscaping industry throughout Indiana for many years.
Located in the Southern Great Lakes forests ecoregion and under the temperate broadleaf and mixed forests biome, Indianapolis is a landscaper's dream. Countless native trees call the area home including a wide variety of ash, maple, and oak leftover from old-growth forest. And with hardiness zones of 5b and 6a—hot, humid, and wet summers combined with cold moderate winters—fall and spring foliage is a must. As your wholesale nursery partner, we offer a select variety of cultivars for every landscape design need.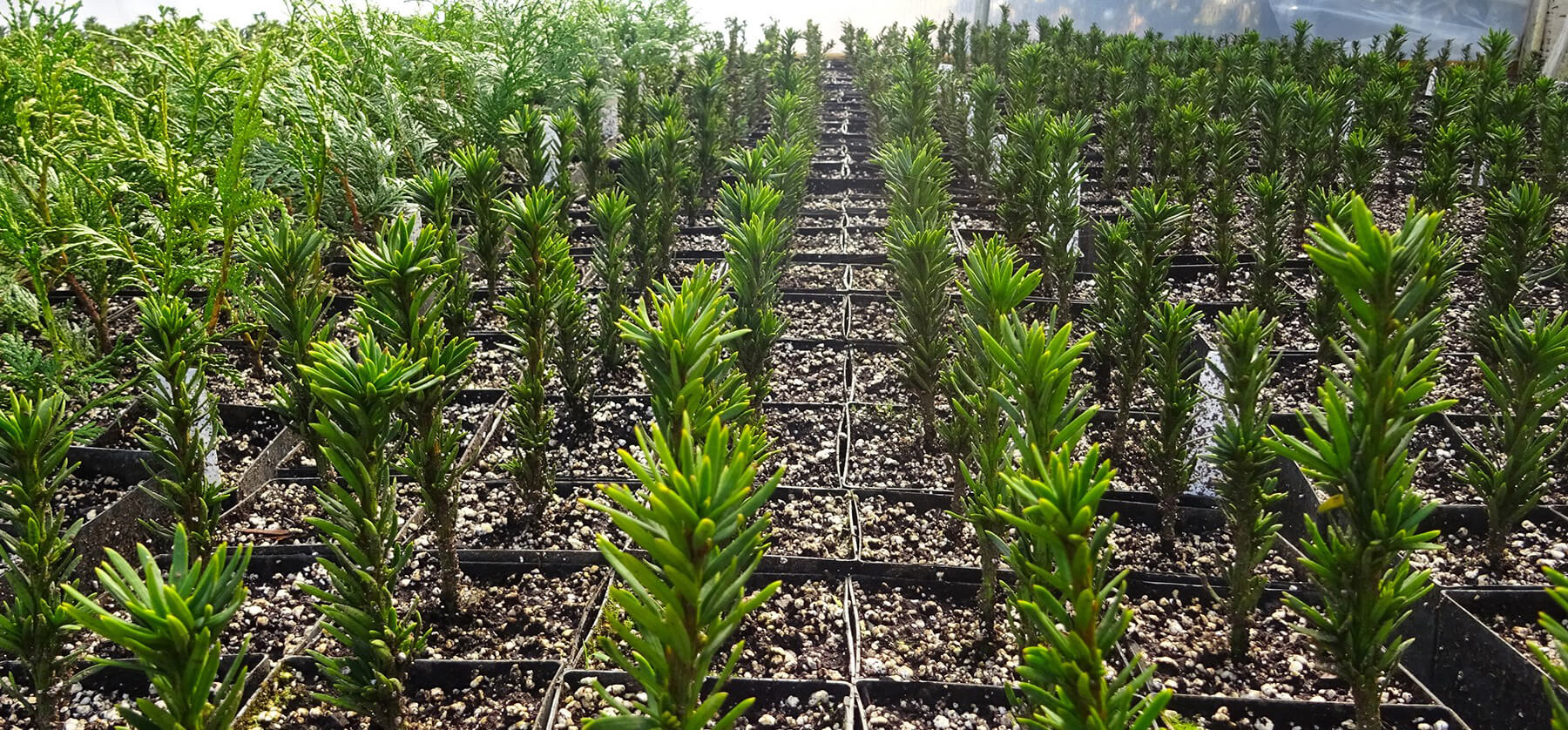 Simply complete this form to view our entire catalog of wholesale nursery trees and shrubs!
Why our Indiana wholesale nursery customers purchase from us year after year
There are many reasons to purchase your landscape shrubs and trees from Waverly Farm Wholesale Nursery. Here are four:
Nursery plants are 90% propagated on site.
Proprietary tillage techniques conserve vibrant, healthy soil that gives plants a strong start in life and promotes continued vigor while they mature in your landscapes.
No synthetic fertilizers. Two on-site composting stations cook up a proprietary blend of minerals and organic matter for soil regeneration and replacement.
Our proprietary harvesting techniques produce a wider root ball that captures most of the feeder roots and yet is much easier to handle on the job site.
What Our Wholesale Nursery Customers Say
Does this thing let you go more than five stars? I've been buying plants for many years and from all over the country. In doing so, I have a pretty good idea of what to expect at your average nursery operation. That said, there are a handful of growers that exceed all expectations. These are growers who so obviously run a tight ship that it is apparent even just pulling up to the office. The property is immaculate. The stock uniform, neatly rowed and tended. Tidy. Weed free. Blemish free. When you place an order with them, you don't have to cross your fingers about what you might expect to receive, and you certainly don't have to worry about what your clients might think on the other end. Waverly Farm is one of those growers. I always look forward to getting stock in from them just to see folks' reaction. I have yet to be disappointed…
Derrin Hayes, Plant Buyer J. W. TOWNSEND Landscapes | VA
We are an upscale Landscaping company, and dealing with clients and nurseries can be tough. Tiffany and Lindsey are a breath of fresh air, making the whole process seamless. I never have any surprises when it comes to inventory, service or deliveries. They are up front with everything and I love working with them. I've had some horror stories when it comes to dealing with other growers, but they are truly the easiest to work with.
Anthony Valenti, Ceci Brothers Garden Centers | CT
Not only is their plant material always perfect, but the service is spectacular. On-line ordering is easy and efficient. Communication is timely. Loading is swift and professional. Working with the folks at Waverly is a pleasure.
Curt Brandenburg, Great American Landscapes | MD
Excellent well-run nursery and beautiful plant material! We have continually done business with Waverly Farm since we started our business 19 years ago and appreciate their service and sourcing our plant material from here whenever possible.
Linda Silich, Groundworks Landscaping | NY
Great plant material, educated staff, love working with them.
Ernie Carlomagno, Nursery Retail Manager, Donaromas Nursery | MA
We at Backyard Bounty are huge fans of Waverly Farm. Their trees are fabulous. They always work with us on special requests. And their yard crews are the world's best at loading and securing product for transport. Thanks!
Kris Colby, Backyard Bounty | MD
Waverly Farm is amazing to work with! They are always so professional, responsive, and accommodating! We are so grateful for their willingness to always go above and beyond to help with any needs we may have!!
Jacqueline Knupp, Nova Outdoor Living Spaces & Gardens | VA
I have been buying from Waverly for over 20 years now. Impeccable quality and great service. Great people to work with. Honest, up front and respectable. Everything you could possibly want in a nursery. You will never be sorry buying material from Waverly Farms.
Jack Teixeira, Cavicchio Greenhouses | CT
Absolutely beautiful plant material that has been carefully grown with top notch horticultural practices. Highly recommend!
Brian Brisby, Stone House Nursery | NJ
Waverly Farm is the place to get mature, high-quality plant material. Tiffany and her team provide reliable and friendly customer service... every time!
George Bridge, George G. Bridge Landscape Construction | MD
Always a pleasure doing business with Jerry and his team. The best in quality along with great communication ! Makes Waverly our go to grower for our plant needs.
Barry Schneider, President, Surrounds Landscape Architecture & Construction, | VA
Waverly Farm is an excellent wholesale supplier of premium quality plant material. The staff is always at the ready to help supply details about what is available and assemble orders efficiently and accurately!
Craig Beni, Surfing Hydrangea Nursery | MA
Waverly produces excellent quality trees and their customer service is just as good!
David Mitchell, Mitchell Tree Care | WV
The staff at Waverly Farm always goes above and beyond to help and their plant material is always top grade! We love using Waverly Farm for our tree needs whenever we can!
Angela Logue, R&L Landscapes | WV