Real flower power! That's how the cultivar Viburnum plicatum 'Popcorn' is described by experts. It flowers earlier and more prolifically than similar varieties, which is just one of the reasons it earned the prestigious Award of Garden Merit from the Royal Horticultural Society. And with such profuse popcorn blooms and handsome green foliage, it should be no surprise that we've made it our current plant of the month!
So, let's dive into what else we love about this Viburnum that really pops. There's more to highlight than just its beautiful flowers.
Viburnum Plicatum 'Popcorn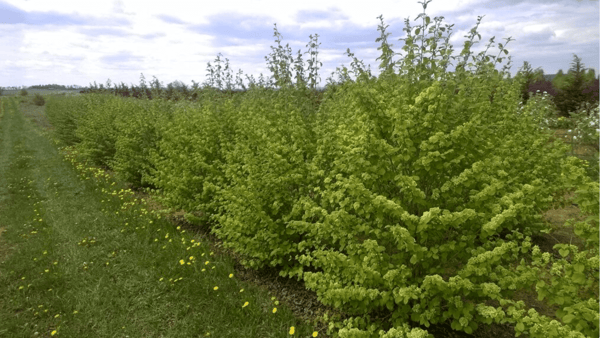 Viburnum plicatum 'Popcorn—also known as the Japanese snowball—is loved by gardening enthusiasts the world over. With proper care, it can liven up almost any garden with popcorn-shaped flower clusters on EVERY branch, handsome green leaves, and attractive red autumn colors.
So, let's talk about proper care. Here's what you need to know:
Plant Type: Deciduous Shrub
Zones: 5 - 8
Height: 5 - 8 feet
Spread: 4 - 7 feet
Colors: dark green leaves, red/burgundy fall foliage
Flowers: White, full snowball (April, May, and June)
Light: Full sun and partial shade
Growth Rate: Fast
Water: Medium
Uses: Shrub borders, foundations, or hedges
MAIN Benefits: Prolific blooming, low maintenance, and fast growth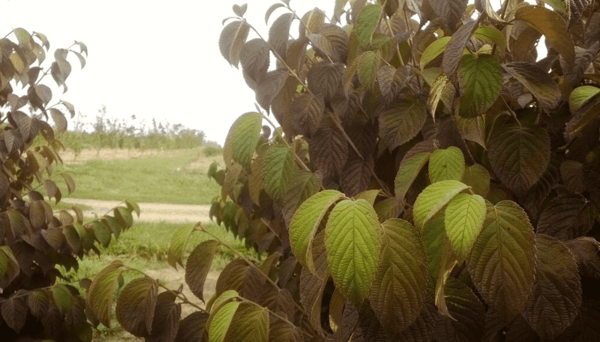 Popcorn Viburnum sets itself apart from the competition by blooming earlier than its counterparts. Starting in April, you'll find a profusion of snowy-white (non-fragrant) blooms, which butterfly and plant enthusiasts love. They also love that this Viburnum tends to be more heat and drought resistant than typical for its species.
In terms of care and growth, Japanese Popcorn is strong and fast-growing. It can quickly reach six to eight feet tall and wide, which makes it great for borders, hedges, privacy screens, and mass planting. And since it's easy to care for—tolerant of acidic soil, moderate on water needs, and disease resistant—it is an excellent choice for most gardens. It looks great in informal and cottage gardens as well as traditional gardens.
Noteworthy Growth Characteristics
Best grown in full sun to partial shade, Popcorn Viburnum prefers moist, well-drained soil. Low maintenance, Popcorn Viburnum handles pruning easily, but it is seldom required thanks to the fact that it grows in a wonderfully rounded shape. Just keep in mind that this Viburnum can get relatively large compared to others, so make sure there's enough space for it to spread. Otherwise, it has no significant negative characteristics, including no serious insect or disease problems.
Alternate Cultivar: Viburnum Plicatum 'Shasta'
If you have a little more space to work with and want a more horizontal shrub, Viburnum plicatum 'Shasta' is another brilliant option.
Plant Type: Deciduous shrub
Zones: 5 – 8
Height: 6 - 8 feet
Spread: 9 - 12 feet
Colors: Dark-green leaves, burgundy/purplish fall foliage
Flowers: White (Late Spring) with red fruits
Light: Full sun to partial shade
Growth Rate: Fast
Water: Medium
Uses: border, hedge, screening/privacy
MAIN Benefits: Ornamental, tolerates clay soil, tolerates salt/seaside areas,
Probably the best of the large fast-growing plicatum types, 'Shasta' is a dense, multi-stemmed shrub with a slightly wider spread than 'Popcorn.' The foliage looks very similar, but its flowers bloom in the late instead of early spring. In addition, 'Shasta' is a fruiting shrub with red fruits that become black in the fall. Keep this cultivar in mind if you need a more horizontal growth habit and you want to attract robins and other fruit-eating birds.
Early and Profuse Blooms!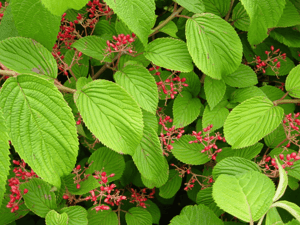 If your landscape design needs eye-popping blooms, then Viburnum plicatum 'Popcorn' and 'Shasta' are both excellent choices. Showy in the spring and fall, these gorgeous cultivars are great for both rustic and formal gardens. To help you choose between each option for your landscape, think about: the space (Shasta has a more horizontal spread), the flowers (Popcorn blooms early), and the fruit (Popcorn is sterile). But really, you can't go wrong with either cultivar!