Why Waverly Plants Live and Thrive
A message from Jerry Faulring, Owner/Founder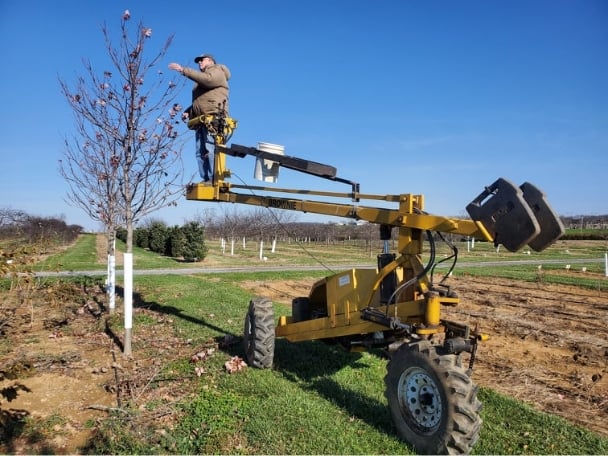 I was in the middle of a casual conversation with a local customer while waiting for his truck to be loaded and I asked, "Why do you keep buying plants from Waverly Farm?" His response echoes what I have heard from others on numerous occasions. But for some reason, I was surprised when this customer, a great plants-man of few words said "Because your plants live!" And he said it with uncharacteristic enthusiasm.
We hear this time and again from folks all up and down the East Coast. Once a Connecticut landscape contractor told me he wished he could buy 100% of his needs from Waverly Farm because he plants them, provides appropriate after care, and does not worry about them with regard to replacement.
I believe these comments reveal something about our growing system and plant care processes that may be too close for me to recognize because it is just built into our daily routines. It speaks to how we grow, how we do what we do. It is so ingrained in us that we hardly think of it as special. But, I guess it is.
We leverage our near perfect soil along with field-tested growing and harvesting practices to give all of our plants a great start in the field and later, at sale time, a great send off to their new home.
Our Six Step Growing System
1 Soil - A Gift That We Protect
It is our good fortune to have soil that is a deep, well-drained, silt loam of the highest productivity available anywhere in the U.S. For over 100 years agronomists have ranked soil productivity by its ability to produce corn. In 1996, our site produced 282 bushels of unirrigated corn per acre against the state average of 130 bu/ac at that time. We appreciate this soil for the gift that it is, and we take good care of it.
2 No Synthetic Fertilizer
We have two composting stations on the farm, one at each end of the property. We amend our nearly perfect soil with 210 tons of compost per acre each time we plant. The organics supply all the nutrition needed while building soil health for the future. We see no benefit to you, our land, or our plant stock by aggressively growing with chemical fertilizers. It is unsustainable. So we don't do it.
3 Drip Irrigation
Drip irrigation focuses the water on the root zone and therefore tends to compact the root system allowing us to ship more roots at sale time. So you receive a plant with a more fully developed root system packed with a generous helping of our vibrant soil.
4 Longer Growing Cycles
Our goal is to produce plants, in higher numbers, of premium grade in sizes that typically are not widely available in the marketplace. On average, we expect it to take longer for us to bring some plants to fully finished size. For example, most of our hollies live here with us for 10 or more years before they are available for sale.
5 Harvesting System
We harvest our plants using the Italian-made Pazzaglia digging machine. It digs slightly less than a perfect sphere. This is important to the longevity of your plant for several reasons.
The root ball is somewhat wider than most machine dug balls thereby capturing more feeder roots.
The ball is not as deep as the typical cone style ball and this reduces the ball weight and planting depth (expense).
The ball depth is ½ the width and contains about 14% more soil at the perimeter than a cone shaped ball of the same size.
The ball stands up without aids and therefore prevents the plant from falling over in the wind or in routine holding; this prevents potential damage to the plant and ball.
This ball also facilitates rolling around by one man in smaller sizes – again preventing handling damage and reducing labor costs.
6 Oversized Root Balls
Our root balls often exceed industry standards by at least one size. As a result, we capture most of the existing root system. Rarely do we find any substantial root mass left behind in the digging hole. This does in fact incur slightly more handling expense but if the plant thrives and does not require replacement, everyone wins.
We Thrive on Customer Relationships
We are dedicated to the mission of delivering exceptional plant material in an atmosphere of service, expert advice, trust, and friendship. This is our promise to you: We go all out to forge mutually beneficial partnerships with all of our customers. This does not feel like work for us. We live for it. It's what we love.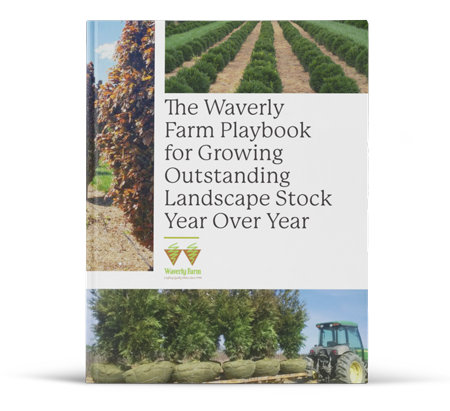 The Waverly Farm Playbook for Growing Outstanding Landscape Stock Year Over Year
Your success as a landscape professional depends on developing long-term partnerships with the most reliable growers as trusted sources for high quality plant stock.
This eBook will help you in your search by identifying key characteristics to look for in a grower capable of producing plants that have year over year consistency in health, size, and fullness.