Lilacs are renowned for their colorful and fragrant panicles. There are few spring bloomers more desirable when it comes to their splendor. After all, who doesn't love a gorgeous purple, magenta, white, pink, or bluish-colored flower in the spring?
If you are someone who likes having lots of options you will love that there are nearly 1,000 named cultivars of lilac! Each Syringa vulgaris is distinct and offers notable qualities that are worthy of being recognized. Some have a stronger fragrance, while others are favored for the hues of their gorgeous blooms. There's a lilac for every landscape.
So, what's our pick for this month? While flower color is always the number one factor in choosing lilacs, how it fits in the garden is just as important. And when you have limited space for planting, but still want to make a big impact, we love the densely blooming Syringa patula 'Miss Kim', followed closely by the Syringa meyeri 'Palibin.'
Syringa Patula 'Miss Kim'
If you're looking for a lilac that is low-statured and offers extremely dense flowers and foliage, the Syringa patula 'Miss Kim' is an excellent choice for small spaces.
Plant Type: Manchurian Lilac
Zones: 4 - 7
Height: 6 - 9 feet
Spread: 5 - 7 feet
Colors: green foliage, purple buds with lilac-pink panicles, burgundy in autumn
Light: Full sun
Water: Medium
Uses: Borders, hedges, rock gardens, and smaller areas
Benefits: Fragrant flowers that attract birds and butterflies, deer resistant, mildew resistant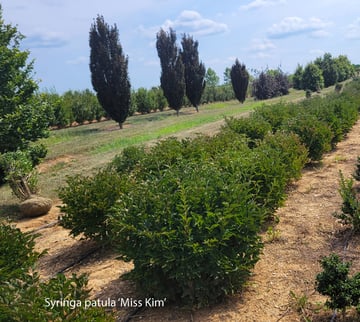 The Manchurian lilac—discovered in the Pouk Han Mountains in Korea—offers gorgeous purple-pink flowers every spring. Panicles can be lavender or light blue, and combined with the plant's green leaves with wavy margins, it makes a lovely addition to any landscape.
A great compact cultivar that's low maintenance and ideal for smaller spaces, the Miss Kim is an eye-catching choice for homeowners. It can create a big impact in any size garden, especially considering its wonderfully fragrant flowers. They are a big selling point from May to June. Then, in the autumn, the foliage turns a gorgeous purple-red color.
And if you're looking to attract wildlife to the garden, the Syringa Patula 'Miss Kim' offers everything you need. Birds (particularly hummingbirds), butterflies, and bees will love its recurring spring blooms. And the rest of the year, they will love this dense shrub as a long-lasting home.
Noteworthy Characteristic
Easily grown in average well-drained soil, the Manchurian lilac blooms best in full sun—though it will tolerate light shade. With good air circulation and light pruning after flowering—including the removal of faded flower panicles before seed set—a 'Miss Kim' will produce an abundance of gorgeous blooms every spring.
And with no serious insect or disease problems, plus resistance to mildew, it's a solid choice for properties where low maintenance is required. It's an ideal shrub for borders, foundation plantings, rock gardens, and anywhere small where a pop of flowers is desired. Planted, massed, grouped, or alone, the Syringa Patula works for both informal and showy landscapes.
Alternate Cultivar: Syringa Meyeri 'Palibin'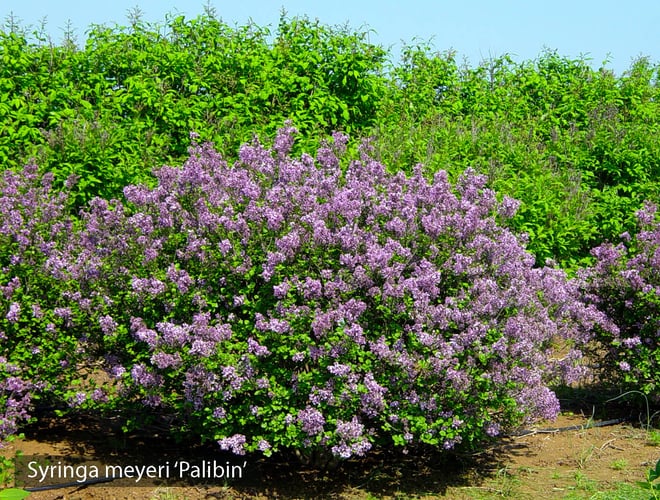 And if you have an even smaller space, but still want amazing lavender flowers, the Syringa meyeri 'Palibin' is a brilliant option.
Plant Type: Dwarf Korean Lilac
Zones: 3 - 7
Height: 4 - 5 feet
Spread: 5 – 7 feet
Colors: Medium-green foliage, Red-purple buds, whitish-pink flowers, dark red fall
Light: Full sun
Water: Medium
Uses: Border, hedge, urban gardens
Benefits: Soft fragrance, attracts birds and butterflies, drought tolerant
As a dwarf variety with 4" lavender panicles, the Palibin is great for landscapes where space is at a premium. As the most dwarfed and slowest growing of all lilacs, it takes many years to reach 4-5 feet if left un-pruned. And during that time, its short stature is covered in flowers from mid-April to mid-May—effective 10-14 days. And with a cooler spring, blooms can last even longer.
Abundant Blooms for Small Spaces
When space is at a premium, but you still want to pack a punch in the garden, both Miss Kim and Palibin are a wonderful choice. As compact lilacs, they offer gorgeous blooms, great fragrance, and low maintenance. So whether you need a small border or a showy centerpiece for a rock garden, you can't go wrong!
If you'd like to find out more about the field operation and growing process at our Maryland wholesale nursery that results in outstanding plant material, download our ebook The Waverly Farm Playbook for Growing Outstanding Landscape Stock Year Over Year.