It seems unfair for a nursery to choose a favorite plant above all others. It's like a parent choosing a favorite child. You're not supposed to do that! We'll side step that sticky issue by choosing a favorite for just this month.
Although all the plants we grow here have wonderful qualities for which we love them, we can't help but admit our special appreciation for viburnums because they are such a versatile and garden-worthy plant. They're attractive, easy to care for, diverse, and a great team player in any garden!
There are easily over 150 species of viburnums offering gorgeous flowers, colorful fruits, stunning fall foliage, and intriguing scents. Most adapt well to a range of growing zones and site conditions, whether dry, wet, sunny, or shady. There are a lot of options to choose from when it comes to designating our absolute favorite.
So, which viburnum do we choose as our favorite for this month? The Alleghany Viburnum, followed closely by the Emerald Envy Viburnum.
Alleghany Viburnum (Viburnum Rhytidophylloides)
The Alleghany Viburnum is a hybrid that has slightly larger leaves and a larger spread than the Emerald Envy.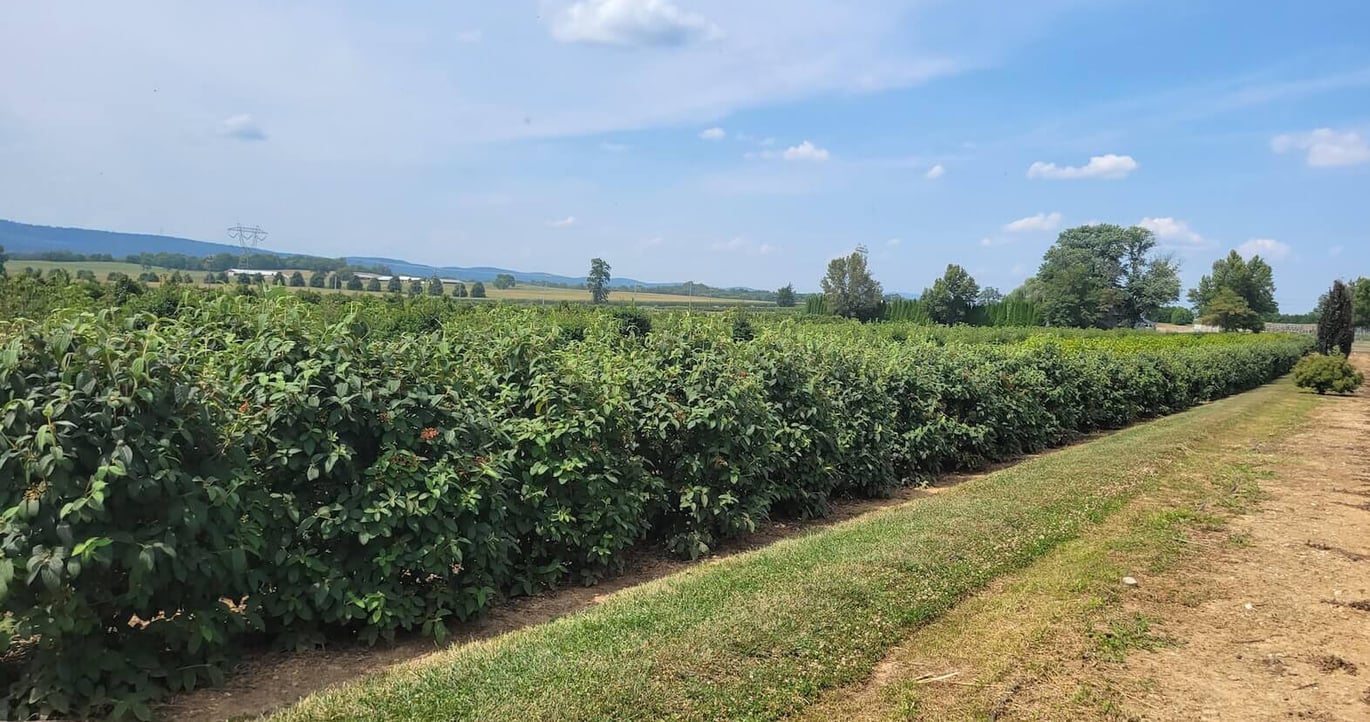 Although it has a slightly poorer winter performance in our zone (dropping about 50% of its leaves in the winter compared to 10%), the Alleghany Viburnum is a faster grower. It's ideal for people who demand an eight-foot hedge more quickly. And we love the large, leathery leaves in shades of dark green on top and light green underneath.
Plant Type: Semi-deciduous shrub (drop about 50% of its leaves in winter)
Zones: 5, 6, 7, 8,
Height: 8 - 10 feet
Spread: 6 – 10 feet
Colors: Dark green foliage, creamy white flowers, bright red (glossy black) fruit
Light: Full sun to partial shade
Water: Medium
Uses: Border plant, hedge, and mass planting
Benefits: Insect resistant, attracts pollinators, hot and dry tolerant, and hardy
Emerald Envy Viburnum (Lantanaphyllum Viburnum)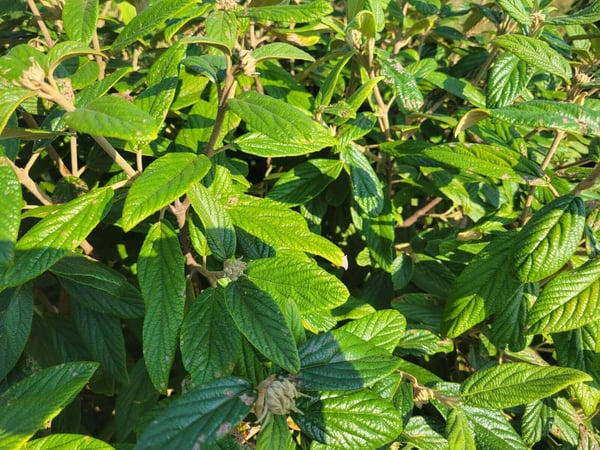 If you're looking for a dense, compact shrub that you can work into almost any area of your site, the Emerald Envy Viburnum is it.
Plant Type: Semi-evergreen shrub (only drops about 10% of its leaves in winter)
Zones: 6, 7, 8, 9
Height: 6 – 8 feet
Spread: 6 – 8 feet
Colors: Green foliage, white flowers, dark green shade, bright red to glossy black fruit
Light: Partial sun to full sun
Water: Medium
Uses: Border plant, hedge, focal point, and mass planting
Benefits: Deer resistant, attracts pollinators, heat tolerant, and easy to grow
The Enviable Beauty and Practicality of Viburnum
We've seen Viburnum planted at entranceways, around foundations, and as privacy screening on property lines. Functionally, it's ideal as a border or hedge shrub. It's also the perfect choice of shrub for screening out utility boxes and the like.
But, do not think Viburnum is merely useful. In fact, the Emerald Envy Viburnum is "very showy" in the spring and vibrant in the fall. If you want flowers, it has flowers! It provides a wonderful display.
One shrub, in bloom, can fill a garden with bunches of creamy white flowers throughout the spring. And in the fall, those flowers give way to clusters of green fruits that slowly turn a vibrant red before maturing into glossy black—all within lustrous deep purple foliage. Plus, it's pretty much bullet-proof evergreen (minus 10%) in our zone.
It's an abundance of beauty and practicality that's hard to beat! Think of the Emerald Envy Viburnum as a glossy multi-stemmed shrub with great branching and flower power.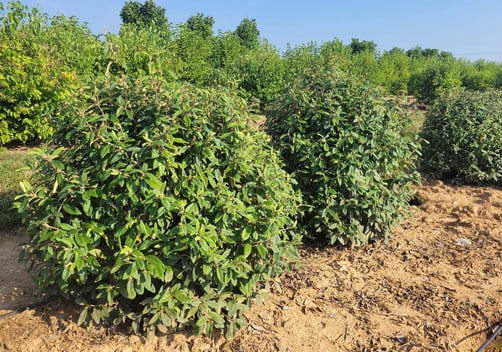 Easy to Grow and Care For
Viburnums are hardy, disease-resistant shrubs that are as beautiful as they are tough. The Emerald Envy Viburnum, in particular, is an easy to grow and easy to care for shrub. Its glossy emerald-colored leaves are both deer resistant and shade tolerant. And it works well in any zone between 6-9.
And when it comes to growing, we love viburnums because they don't require a lot of fuss. They are native to North America, so they are easily adaptable to many soil conditions and climate zones. Even during droughts, viburnums can come out the other side looking good and not the least bit straggly. Plus, serious insect problems are quite rare.
The key is to plant the Emerald Envy Viburnum in the right location so it can excel season to season. They grow best in moist, well-drained soil with full sun while tolerating part shade and dry spots. They also prefer good air circulation, so periodic pruning is key to preventing fungal diseases.
Your customers will enjoy an Alleghany Viburnum or Emerald Envy Viburnum for years to come. They're rewarding shrubs to grow—adaptable, beautiful, and with a reputation for holding their own.
If you'd like to find out more about our field operation and growing process at our Maryland wholesale nursery that results in outstanding plant material, download our ebook The Waverly Farm Playbook for Growing Outstanding Landscape Stock Year Over Year.