Evergreen shrubbery plays a critical role in landscape design. There great cultivars made especially for screening, hedging, or foundation planting. All you have to decide is what type of plant is best suited to your needs. One of our favorite options is the Hicksii yew, specifically the hybrid designation: Taxus x media.
Taxus x media Hicksii is a cross between an English yew (Taxus baccata) and Japanese yew (Taxus cuspidata). What this means is that you gain the ornamental beauty and excellence of the English yew combined with the winter hardiness of the Japanese yew—the best of both worlds. And there are a wide variety of Taxus x media hybrids to choose from, depending on your landscape.
For a cultivar with lustrous dark green needles, ideal for a narrow hedge, Taxus x media 'Hicksii' is your best choice. But if you have more space and need a larger and wider hedge, Taxus x media 'Hatfieldii' is another option.
Taxus x media 'Hicksii' — Hicks Yew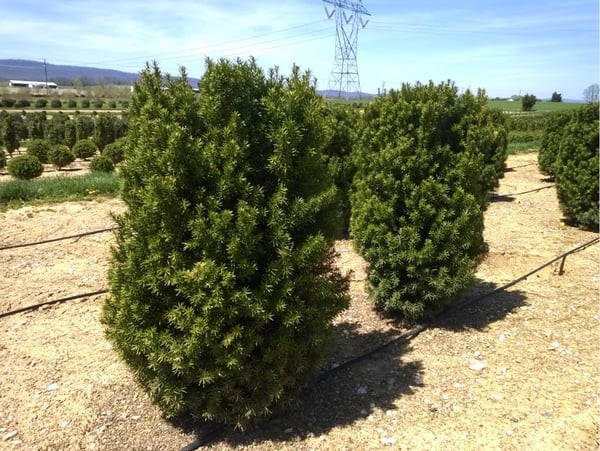 Taxus x media 'Hicksii'—otherwise known as the Hicks Yew—is a gorgeous evergreen with lustrous dark green needles on top and a lighter green underside. It survives well in cold climates and makes a good narrow hedge or screening plant.
Plant Type: Needled evergreen (Yew)
Zones: 4 - 7
Height: 15 - 20 feet
Spread: 5 - 8 feet
Colors: dark green foliage year-round
Light: Full sun to heavy shade
Water: Medium (well-drained soil)
Uses: hedge, border, screen, foundation plant
Benefits: tolerates heavy shade, tolerates clay soil, drought resistant, winter interest
The Hicks Yew grows dense and in a narrow columnar shape with ascending branching. This makes it a good choice for landscapes where a tall but narrow hedge is required. It typically matures to a height of 18 – 20 feet with a spread of 6 – 8 feet after 20 years. And since it is excellent at holding its color in winter, it makes a brilliant choice for four-season privacy.
As a dioecious, there are both male and female plants available. The female plants usually (but not always) produce red, berry-like fruits—each with a single seed surrounded by the red flesh. However, this does not make the plant attractive to animals, as all parts of the Hicks Yew are poisonous if ingested.
The main attraction of a Hicks Yew are its glossy dark green needles and excellence in shady conditions. It's a fantastic replacement for the T. baccata 'Fastigiata' in colder climates.
Noteworthy Characteristics
Best grown in full sun to partial shade, the Hicks Yew can also tolerate heavy shade when required. This makes it a brilliant choice for urban conditions. However, it does require well-drained soils and has zero tolerance for wet conditions. It can be grown in clay soil but prefers moist and sandy loams.
Relatively low maintenance, the Hicks Yew accepts shearing and pruning easily. But all pruning should be done in early spring before new growth appears. It has no significant negative characteristics, including no serious insect or disease problems. However, we must warn you that Taxus is not deer resistant and should not be planted where deer pressure is intense.
Alternate Cultivar: Taxus x media 'Hatfieldii' — Hatfield Yew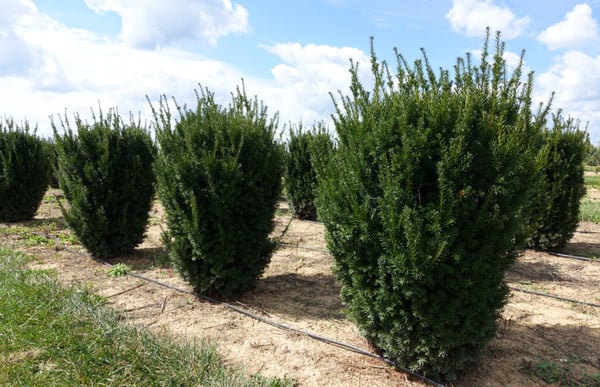 If you have a little more space to work with and you require a shorter but wider hedge, Taxus x media 'Hatfieldii'—also known as the Hatfield Yew—is another dazzling option.
Plant Type: Needled evergreen (Yew)
Zones: 4 – 7
Height: 12 feet
Spread: 10 feet
Colors: needle-like dark green leaves
Light: Full sun to partial shade
Water: Medium
Uses: border, hedge, screen
Benefits: tolerates heavy shade, tolerates clay soil, drought resistant, winter interest
The Hatfield Yew is a male-only cultivar with dark green needles. It grows in a dense and pyramidal-columnar habit with a wide spread. Considered a large specimen, it grows to 8-feet tall and 10-feet wide in the first 10 years. Attractive year-round, the Hatfield Yew has many similar characteristics to the Hicks Yew, including tolerance for shade as well as urban conditions. Also noteworthy is that Hatfield grows about 30% slower than Hicksii which may be desirable because it takes less pruning for the plant to remain manageable. It is best used as a solid hedge or screen.

Privacy Screening and Hedging Year-Round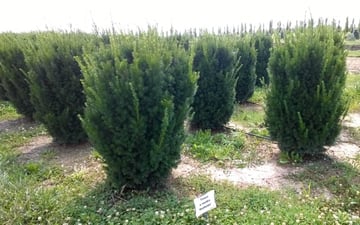 When your landscape design requires a screen or hedge that is dark green year-round, the Hicks Yew and Hatfield Yew are both excellent choices. They grow in dense columnar habits; the only difference being height and spread—the Hicks is taller and narrower than the wide and squat Hatfield. Otherwise, both Taxus x media hybrids work well in urban landscapes, in clay soil, in shaded conditions, and in winter conditions. They will thrive as borders, screens, hedges, and foundation plants, so you really can't go wrong with Taxus x media 'Hicksii' or 'Hatfieldii' yews.
If you'd like to find out more about the field operation and growing process at our Maryland wholesale nursery that results in outstanding plant material, download our ebook The Waverly Farm Playbook for Growing Outstanding Landscape Stock Year Over Year.