We love the look and feel of boxwood evergreens. From low hedges to well-designed topiaries and focal points, buxus offers homeowners an elegant and timeless solution for both formal and informal landscapes. Every species of shrub and tree offers something unique.
Although there is a huge variety of cultivars to choose between when it comes to designing your garden, for beauty, elegance, and adaptability, boxwood (genus Buxus) can't be beaten. And that's why the Buxus 'Green Mountain'' is our plant of the month. Out of more than 70 species of slow-growing broadleaf boxwood shrubs, it is without a doubt one of our favorite cultivars followed closely by Buxus 'Green Ice'.
Buxus 'Green Mountain' for Hardiness and Deep Color
For a true upright columnar evergreen, the Buxus 'Green Mountain, with its superior hardiness and color, is an excellent cultivar for formal gardens and hedges.
Plant Type: Broadleaf evergreen boxwood
Zones: 4, 5, 6, 7, 8,
Height: 3 - 5 feet (eventually 5-7 feet tall after 10 years)
Spread: 5 – 7 feet if not trimmed
Colors: Bright green leaves, greenish-cream blooms
Light: Full sun or light to medium shade
Water: Medium
Uses: Low hedge, foundation planting, formal garden
Benefits: Rabbit and deer resistant, hardy, slow-growing, upright columnar or pruned to pyramidal shape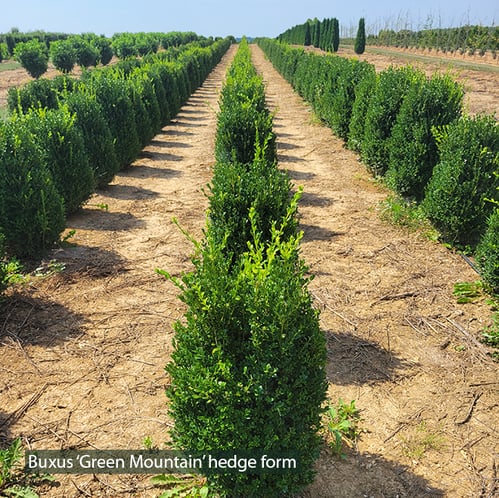 The Green Mountain is a hybrid species of Buxus microphylla var. koreana and semperviren that was cultivated for the Sheridan Nursery of Canada. It was designed to provide superior hardiness with dark green foliage throughout the winter. The Green Mountain works well for low to six foot hedges, foundations, topiaries, and in mass plantings.
This slow-growing hybrid with glossy dark green leaves is a great choice when both beauty and practicality are required. Offering an upright form, the Green Mountain can be readily maintained with pruning. In fact, we have hedged and pyramided it with great success.
Healthy, Long-Lasting Hedge
The Green Mountain boxwood is a striking plant that thrives even in inner-city environments. All that is required is time to enjoy its value.
As for upkeep, it is best grown in evenly moist, well-drained loams—sheltered from strong winds. It can be grown in both full sun and part shade. Otherwise, it requires little special care other than annual pruning prior to the last frost in spring or to trim new growth in early summer..
Alternate Cultivar: Buxus 'Green Ice'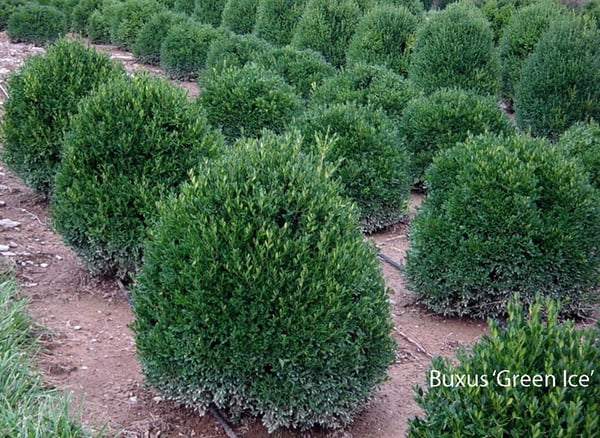 And if you desire deep glossy green foliage that looks blue-green in the spring (and requires minimal pruning), Buxus 'Green Ice' is an excellent substitute for the Buxus 'Green Mountain' that will require nominal pruning compared to 'Green Mountain'.
Plant Type: Broadleaf evergreen boxwood
Zones: 5, 6, 7, 8,
Height: 3 - 4 feet
Spread: 3 – 4 feet
Colors: deep glossy green leaves, blue-green spring blush
Light: Full sun to partial shade
Water: Medium (adaptable to various moisture conditions)
Uses: Low hedge, border planting, formal garden
Benefits: Deer resistant, little pruning, dense upright columnar habit
The Green Ice is another hybrid boxwood cultivar, combining Buxus microphylla var. koreana and sempervirens. It has a dense, compact, upright columnar form that is well known for its deep and glossy green foliage, which is blue-green during the spring flush. The Green Ice requires very little pruning and offers fantastic winter hardiness.
With the Green Ice, you'll enjoy: inconspicuous flowers, increased resistance to winter burn, glossy dark leaves that hold their color, and adaptability. When planting, keep in mind its dense columnar shape that is as wide as it is tall—about 3- to 4-feet in both directions. And note that it can handle a wider range of soil moisture levels than other boxwoods.
Boxwood: Beautiful and Easy to Care For Year-Round
Their hardy nature and ability to withstand regular clipping and shearing is one of the most attractive features of boxwood. They are essential in landscapes where durability, beauty, and longevity are required. We have no doubt that your customers will enjoy Buxus 'Green Mountain' or Buxus 'Green Ice' for many years to come.
If you'd like to find out more about the field operation and growing process at our Maryland wholesale nursery that results in outstanding plant material, download our ebook The Waverly Farm Playbook for Growing Outstanding Landscape Stock Year Over Year.