Distinctive and striking are two of the most common adjectives used to describe Thuja plicata 'Zebrina'. It has creamy yellow "zebra-like" stripes mixed with dark green sprays of vegetation. And it offers a refined pyramidal habit and dense foliage. All of this sets Zebrina apart as an excellent ornamental cultivar for privacy screening in landscapes.
Before you add Thuja Zebrina to your list, let's dive into everything you need to know about what makes this cultivar a solid choice.
Thuja Plicata 'Zebrina'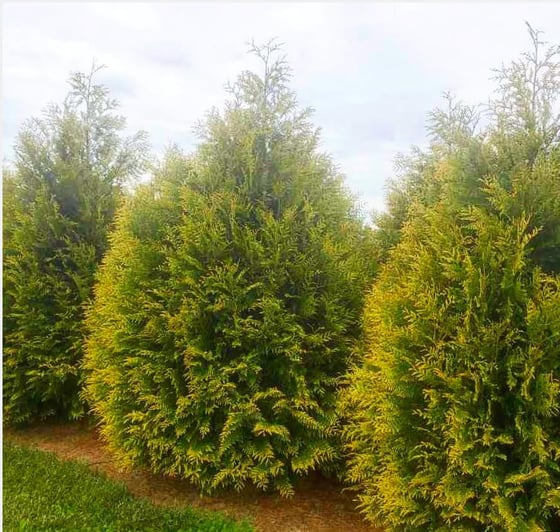 Thuja plicata 'Zebrina', or Western Red Cedar, is a giant arborvitae that works best in moist and humid locations, but is also adaptable to a range of landscapes.
Plant Type:

Coniferous Evergreen

Zones:

5 - 7

Height:

30-50 feet

Spread:

8-12 feet

Colors:

yellow-green striped foliage year-round

Light:

Full sun and partial sun

Water:

Medium (moist but well-drained soil)

Uses:

screening/privacy
Main Benefits: Deer resistant, fragrant foliage, tolerant of clay soil and black walnut
The largest tree in the cypress family, Thuja plicata, when grown in their native Pacific Northwest habitat, can reach 100-200' tall and live more than 1000 years. But the Zebrina variegated form typically matures at just 30-50 feet tall and 8-12 feet wide—much more reasonable for an urban garden. This makes it a good vertical accent to any landscape and especially valuable as a tall hedge or privacy screen.
Featuring horizontal branching that grows in a narrowly conical habit, Zebrina has attractive reddish-brown bark, scale-like leaves, and small knobbly cones. The feathery green foliage that's striped with creamy yellow is highly ornamental and remains yellow green throughout the winter. It also gives off a distinct aromatic fragrance when the leaves are crushed.
Noteworthy Characteristics
Slow-growing, Thuja Zebrina prefers full sun to partial shade. It also prefers moist (or even wet) soils, and is tolerant of clay soil. The key to a thriving Zebrina is cooler summer climates (or partial shade in the heat of summer). Mulching is recommended to help prevent the soil from drying out. Otherwise, it is tolerant of urban pollution and has no preference for soil type or PH.
Relatively low-maintenance, Zebrina seldom requires pruning and only of the new growth of the current season. Otherwise, it has no significant negative characteristics, including no serious insect or disease problems. In fact, it is highly deer and rabbit resistant.
Alternate Cultivar: Thuja Standishii x Plicata 'Green Giant'
If you desire a faster growing hybrid arborvitae that features a narrowly conical pyramidal tree in rich glossy green, Thuja standishii x plicata 'Green Giant' is another solid option.
Plant Type: Coniferous Evergreen
Zones: 3 – 8
Height: 30 -40 feet
Spread: 10 - 15 feet
Colors: medium glossy green
Light: Full sun to partial sun
Water: Medium
Uses: border, hedge, accent, privacy/screening
Main Benefits: Fragrant foliage, tolerant of clay soil, deer resistant, fast growing
Green Giant is a popular evergreen for privacy screening because it is so fast growing—up to five feet per year. As a hybrid, not only is it tolerant of a wide range of soil and site conditions, but it is also a hardier substitute than similar cultivars (especially the Leyland cypress). A uniform grower, Green Giant is deer resistant, shows no significant pest or disease problems, offers easy care, and is attractive year-round. And with a similar pyramidal growth habit and dense foliage as Zebrina, it is a good choice for sizable border or privacy screen needs for most landscapes.
Bold and Attractive Privacy Screening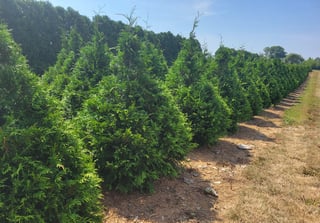 When working on a landscape that's in need of bold and attractive privacy screening, a tall conical evergreen is optimal. And the striking pyramidal forms of Thuja plicata 'Zebrina' and Thuja standishii x plicata 'Green Giant' are notable choices. Both cultivars offer uniquely yellow or golden coloring, remain green/yellow year-round, and are vigorous with little maintenance.borders, screens, hedges, and accent plants. So, if you need an evergreen fence, you really can't go wrong with either Zebrina or Green Giant.
Our eBook "The Waverly Farm Playbook for Growing Outstanding Landscape Stock Year After Year" will help you in your search by identifying key characteristics to look for in a grower capable of producing plants that have year over year consistency in health, size, and fullness.