For a fast growing and reliable privacy screen that remains green all year long, Thuja occidentalis 'Hetz Wintergreen' is an excellent landscape choice. It is a robust-growing eastern arborvitae with a strong central leader and narrow upright conical shape. This makes Hetz Wintergreen effective as a hedge or privacy screen. Plus, its texture blends well into most landscapes, and can be easily balanced with finer or coarser trees and shrubs for the right composition.
But before you choose Hetz Wintergreen for your next landscape project, let's talk about its qualities and characteristics for planting and growing.
Thuja Occidentalis 'Hetz Wintergreen'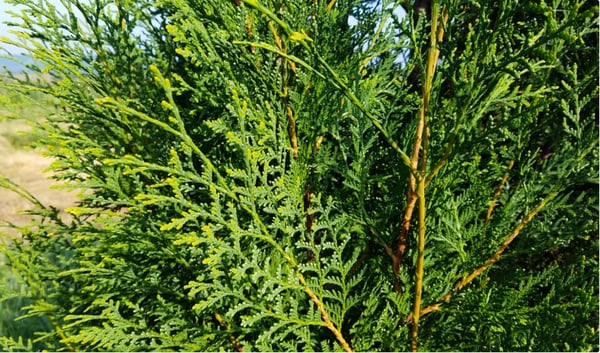 Thuja occidentalis 'Hetz Wintergreen' is valued for its rigidly columnar form and dark green foliage. Whether summer or winter, the color remains the same with very little maintenance required. And it is especially hardy for areas of heavy snow and ice.
Plant Type: Eastern Arborvitae
Zones: 3 - 7
Height: 25 feet
Spread: 5-10 feet
Colors: dark green foliage year-round
Light: Full sun and partial sun
Water: Medium (well-drained soil)
Uses: privacy screen, windbreak, hedge, or border
MAIN Benefit: Snow and ice resistant, fast and robust-growing
Originating as a seedling in the 1940s by F.C. Hetz and Fairview Evergreen Nursery, Hetz Wintergreen is a popular cultivar with no significant negative characteristics. A narrowly conical and robust needled evergreen, it offers dark green foliage year-round without taking the winter bronzing we see in other Thujas. In fact, Hetz Wintergreen can hold its color even in areas that experience heavy snow load. This makes it especially desirable as a privacy screen, windbreak, or tall hedge in colder microclimates.
With an average texture and multi-stemmed dark green needles, Hetz Wintergreen is an ideal background plant. It works well when balanced with finer or coarser trees and shrubs, creating an eye-catching composition. Offering a medium to fast growth rate, this eastern arborvitae grows 12 to 18 inches per year.
Noteworthy Characteristics
Best grown in full sun to partial shade, Hetz Wintergreen prefers moist conditions and will do well once they are established. If planting in colder microclimates or in an exposed location, use thick mulch around the root zone. Otherwise, it has no significant soil requirements, and displays few negative characteristics.
Relatively low-maintenance, Hetz Wintergreen handles pruning easily, but seldom is it required. You should only trim back the new growth of the current season and remove dieback. In its lifetime it can reach a height of 25 feet, a spread of about 8 feet, and display a low canopy that is branched to the ground.
Alternate Cultivar: Thuja Occidentalis 'Smaragd'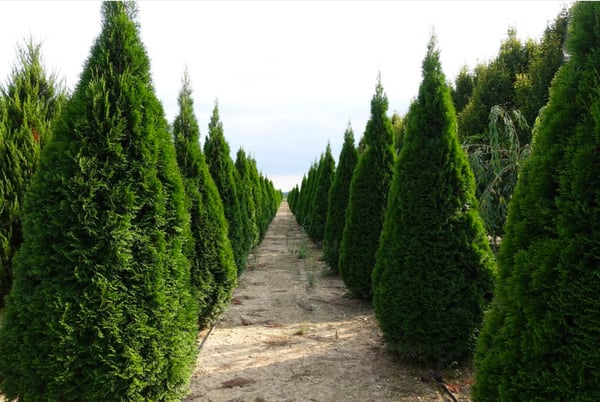 If you need a significantly more compact Eastern Arborvitae, Thuja occidentalis 'Smaragd' is another option with bright medium green foliage even in the winter.
Plant Type: Eastern Arborvitae
Zones: 2 – 7
Height: 12 - 14 feet
Spread: 3 -4 feet
Colors: bright medium green foliage year-round
Light: Full sun to partial shade
Water: Medium
Uses: border, hedge, accent, privacy screen, wind screen
Benefits: Tolerates cold and exposed sites, winter interest, fragrant foliage, tolerant in urban settings with air pollution
Smaragd is a much smaller tree (semi-dwarf) well suited to urban environments. Its bright medium green foliage is exceptionally dense and visually pleasing. Plus, it is a hardy and relatively low maintenance cultivar that can handle black walnut, clay soil, and air pollution. It takes pruning well and naturally grows in an upright cone shape. Even in winter, the foliage remains bright green, which makes it a versatile arborvitae useful as a privacy screen, hedge, accent, or natural fence.


Dark Green Interest Year Round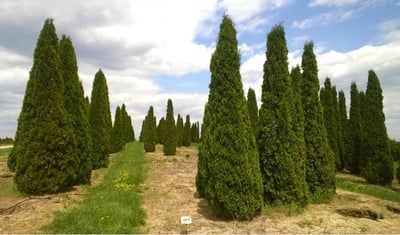 When working on a landscape that requires privacy and color year-round, a tall and robust evergreen is needed. The beautiful pyramidal forms of Thuja Occidentalis 'Hetz Wintergreen' and 'Smaragd' are clear front-runner choices. Both cultivars are highly tolerant of cold weather, remain green no matter the season, and are very hardy with little maintenance. So, if you need an attractive evergreen hedge, you really can't go wrong with either of these Eastern Arborvitae.
Your success as a landscape professional depends on developing long-term partnerships with the most reliable growers as trusted sources for high quality plant stock.

Our eBook "The Waverly Farm Playbook for Growing Outstanding Landscape Stock Year After Year" will help you in your search by identifying key characteristics to look for in a grower capable of producing plants that have year over year consistency in health, size, and fullness.