Needled evergreens are some of our favorite foliage. Not only are they attractive year-round—holding their vibrant green color even in winter—but they also tend to be hardy, heat tolerant, and easy to prune. They also are relatively fast-growing and low-maintenance, which means they are an excellent choice for hedges, borders, and privacy.
One of our favorite needled evergreens is the Thuja occidentalis—more commonly known as the Eastern Arborvitae. This species grows in a dense, conical, and narrow-pyramidal shape, making it a very popular choice for landscapers needing to create a screen or highlight a specimen. The only thing you have to decide is what specific cultivar to use for your project. There is one potential drawback to be considered and it is this: The only deer resistant Eastern Arborvitae is Thuja occidentalis 'Elegantissima'.
If you need a cultivar with a narrow habit to fit slender spaces, at corners, or near entryways, Thuja Occidentalis 'Thin Man' is your best choice. And if you have slightly more space but still need a specimen or privacy hedge in a tight area, the Thuja occidentalis 'Degroot's Spire' is another exceptional option.
Thuja Occidentalis 'Thin Man'
The Thuja occidentalis 'Thin Man' is the thinnest Eastern Arborvitae possible—one that can reach 15 feet tall while still only being a few feet in diameter.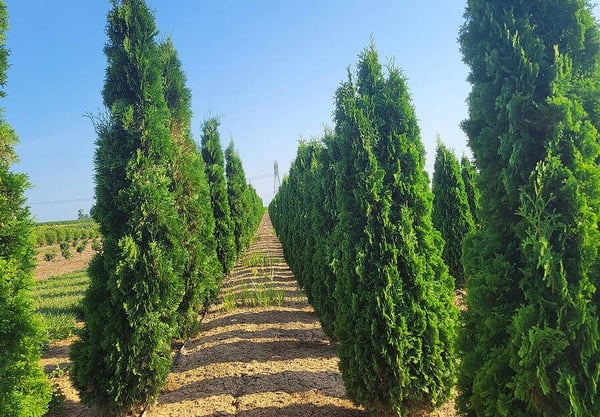 Plant Type: Eastern Arborvitae
Zones: 3 - 7
Height: 15 feet
Spread: 3-5 feet
Colors: dark green foliage year-round
Light: Full sun and partial sun
Water: Medium (well-drained soil)
Uses: instant privacy, hedges, borders, corners, entryways
Benefits: fast-growing, heat tolerant, long-lived, low-maintenance
This extremely narrow and fast-growing needled evergreen offers dark green foliage year-round. And since it is excellent at holding its color in winter, it makes a brilliant choice for four-season privacy. With an average texture and dark green needles, it can blend into almost any landscape, and works well when balanced by one or two finer or coarser trees or shrubs for composition.
In comparison to other Eastern Arborvitae, it is extremely narrow and space-saving—living up to its name of the Thin Man. At maturity, it can reach about 15 feet in height with a spread of just 3 feet, so it is suitable for planting in tight spaces. And with a life expectancy of 50-150 years or more, it's a hardy choice for the discerning homeowner.
Note: This cultivar does not offer significant flowers or fruit, so using the shrub as a privacy fence instead of for ornamental purposes is recommended.
NOTEWORTHY CHARACTERISTIC
Best grown in full sun to partial shade, the Thin Man prefers average moist conditions. The key is to not let the soil dry out. So tuck it in for the winter with a thick layer of mulch around the root zone. You should also avoid planting in exposed conditions where wind can be drying.
Relatively low-maintenance, the Thin Man handles pruning easily, but seldom is it required. You should only trim back the new growth of the current season. Otherwise, it has no significant negative characteristics, including no serious insect or disease problems.
Alternate Cultivar: Thuja occidentalis 'Degroot's Spire'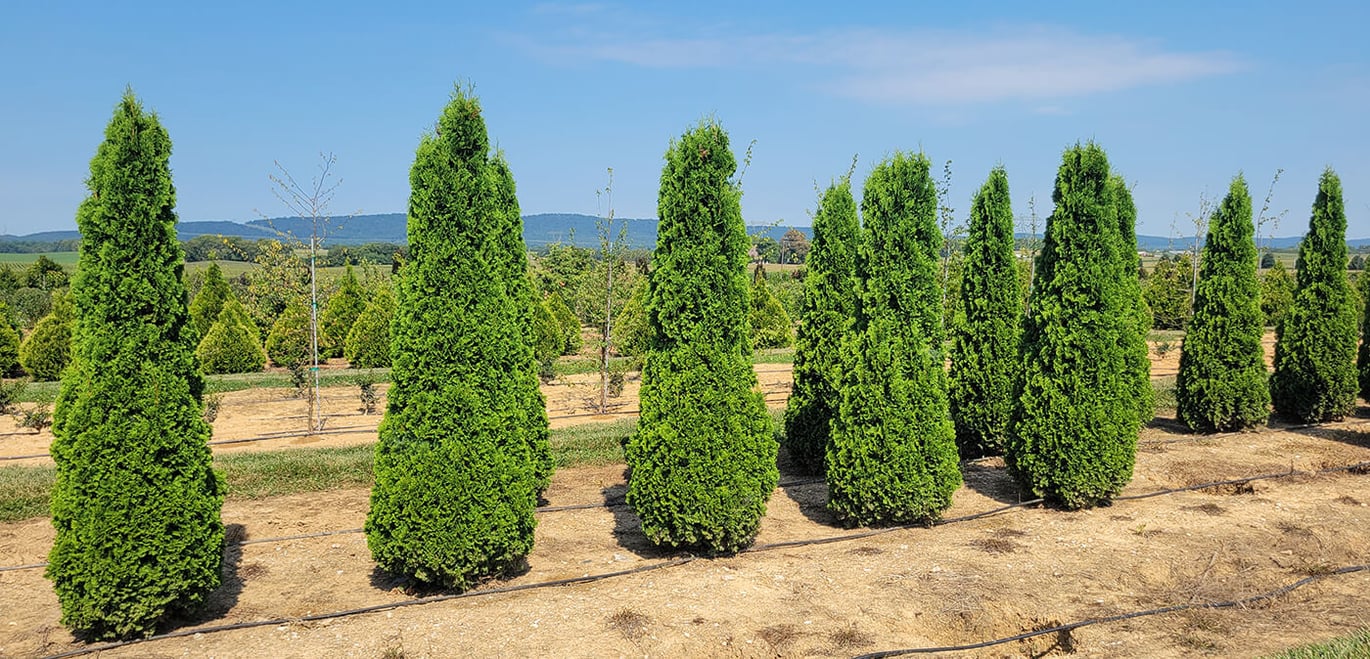 If you have a little more space to work with and you're willing to plant a slower-growing Eastern Arborvitae, the Thuja occidentalis 'Degroot's Spire' is another brilliant option.
Plant Type: Eastern Arborvitae
Zones: 2 – 7
Height: 20-30 feet
Spread: 4 -6 feet
Colors: medium-green foliage year-round
Light: Full sun to partial shade
Water: Medium
Uses: border, hedge, accent
Benefits: Tolerates clay soil, cold and exposure tolerant, winter interest, tolerates black walnut
Degroot's Spire cultivar is a slower-growing shrub that produces a dense, compact, and narrow column of rich medium-green foliage. In winter, the foliage takes on a purple cast that is as beautiful as it is hardy and reliable in the cold. With a twisted texture on its pyramidal form, it tolerates shearing and pruning nicely, making it the perfect choice to plant between buildings. It also makes a great accent tree due to its wonderful fragrance (reminiscent of citrus) and impressive height.
Privacy Screening for Small Spaces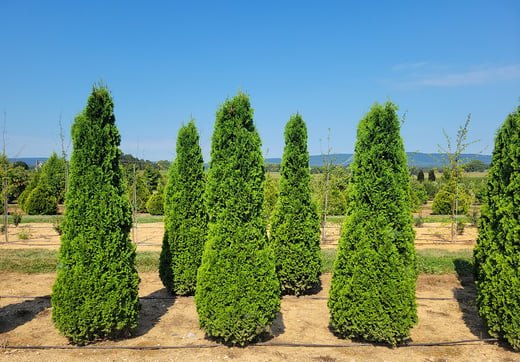 When working on a landscape that's in need of privacy but has limited space, a tall but narrow evergreen shrub is what you need. And the beautiful pyramidal forms of the Thuja occidentalis 'Thin Man' and 'Degroot's Spire' are exceptional choices. Both cultivars are reliable in cold weather, remain green year-round, and are very hardy with little maintenance. They'll thrive as borders, screens, hedges, and foundation plants. So, if you need an attractive evergreen fence, you really can't go wrong with either Eastern Arborvitae.
If you'd like to find out more about our field operation and growing process at our Maryland wholesale nursery that results in outstanding plant material, download our ebook The Waverly Farm Playbook for Growing Outstanding Landscape Stock Year Over Year.